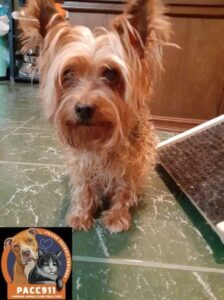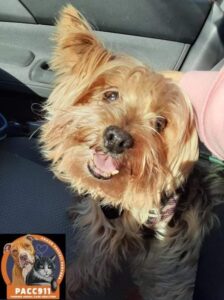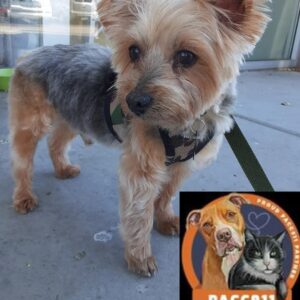 PUPDATE:   4/6/22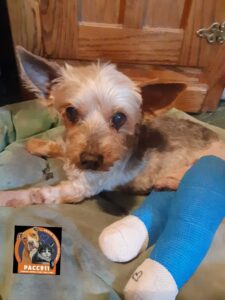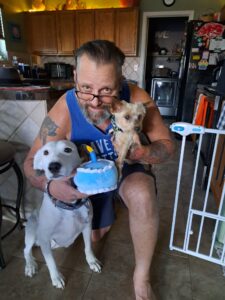 JERRY FOUND HIS FOREVER HOME 
Jerry is home after surgery, and is doing quite well! He ended up getting bilateral tibial crest transposition (basically removing part of a bone, moving it to the center, and securing with wires to keep his patellas in place), tendon release, and lateral imbrication (sutures to stabilize the stifles). The doctor also gave him platelet rich plasma injections in both shoulder joints to treat chronic instability and medial glenerohumeral injuries (damage to the shoulder joint ligaments). We were just planning on doing the right shoulder, but once he took rads and felt him, it was evident that his left shoulder was having issues as well, likely from being the leg that was doing the most work. These injections work by activating cells to repair damaged and wounded tissues.
Jerry's biggest complaint right now is the peg legs, but the bandages will be removed Thu, and the harder recovery will begin. He ate his 1/2 portion of dinner, and is resting well after an almost 3 hour surgery.
PUPDATE:
Jerry has been here for a month now, and is settling in. He is a shy boy who won't seek attention, but loves gentle pets. He seems to prefer a calmer environment, and is generally calm himself. He does use his voice though, tries to run outside (he currently can't), and enjoys daily walks. He is perfectly house broken and loves his crate.
He has met with the orthopedic surgeon and has severe bilateral luxating patellas, along with weak ligaments in his front right leg (likely as a result of his neck damage), which causes his front right leg to luxate. He will be getting bilateral luxating patella surgery, along with a prp (platelet rich plasma) injection for his right leg to strengthen his ligaments and keep the leg in place. He is scheduled for April 4th, and will have a few months of recovery. Once he's recovered, he will get his dental, and then will be available for adoption.
Meet Jerry! Over the weekend, the Arizona Humane Society reached out to us to help this sweet approximately 9 year old boy, and we are glad that we had an open foster. While at the Humane Society, they noticed that he doesn't always use his front right leg, and when he does, it often gives out, leading to him falling. His back legs give him issues as well. He had radiographs taken while showed that he has problems with his cervical spine (specifically narrowing of c6-t1). This is likely a chronic disk injury that has caused problems with his right front leg. He was also diagnosed with bilateral luxating patellas, with his right hind leg having a medially displaced patella. From exam with our vet today, it can be manually put in place, but it pops back out.
Right now, we are exploring treatment options for him and he may need surgery for his right hind leg, and he also needs a dental due to typical Yorkie teeth.
His foster says that he is as sweet as he is adorable, and is a fantastic dog! He does fall and has a slow, awkward gait, and he is not able to be as active as he wants to be. He has been started on a pain and anti inflammatory medicine for the time being.
This sweetheart needs our help!