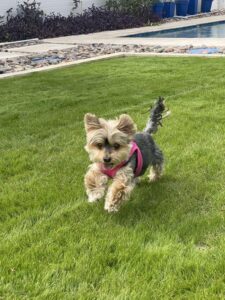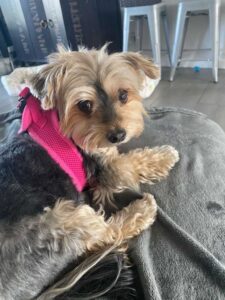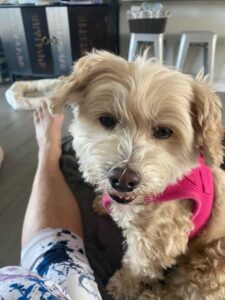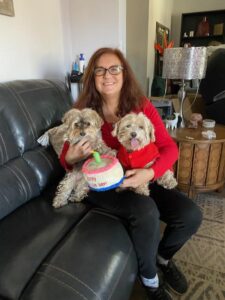 BITZY AND PEANUT FOUND THEIR FOREVER HOME
Update on Bitzy and Peanut now that I know them better.
Itsy Bitzy and Peanut were surrendered from a loving family.  The parents were elderly and their mom passed away.  Their dad had planned to keep them but unfortunately he fell and broke his leg.  They are used to having someone with them 24/7 so they would like a forever home where some is home quite a bit. Peanut was rescued from a puppy mill so it is the owners wish that she is never crated. Peanut will be 8 in January and Bitzy will be 8 in March.  They are doggie door trained but I don't have one. They are both learning to tell me when they need to go outside. They come when called and are both treat motivated!! Bitzy and Peanut were not walked often and since they have been at my house, they are walking at least 3 miles a day!  They have about a pound to lose each!  They are new to a leash but doing well!  They tend to walk behind me on their leash. Peanut is my shadow!  I can't leave the room without her following me!  She loves cuddling 24/7.  Bitzy is more independent although she has her moments when she likes to cuddle.  They do bark when left alone but settle down after a few minutes.  Bitzy is hilarious….if there is even a picture of an animal on TV, she will bark at the TV.  They sleep in bed with me and love to lounge in the morning while I catch up on social media. They are good with other dogs, children and love all people. They are little love bugs looking for their forever home!!  They will be available for adoption after their dental on December 19th.
They are Adorable little Morkie sisters! They are 7 years old. Peanut is 11 pounds and Itzy Bitzy is 7 pounds. Both need to lose a pound or two! Their parents were elderly and the mom passed away recently. The dad had planned to keep them but he took a fall and broke his leg so he can no longer care for them. They will need shots and dentals before they are ready to be adopted.