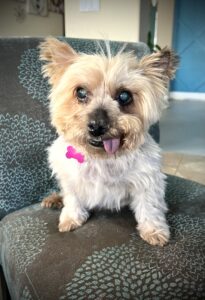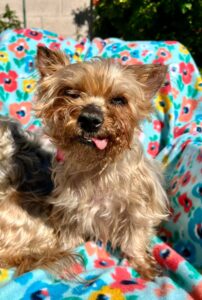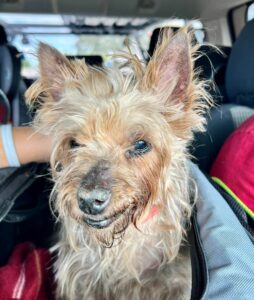 UPDATE 5/11/23
Flora is still looking for her forever family. Here is the latest update on her golf ball size lump in her neck. When we first rescued Flora our veterinarian suspected the lump was due to how severely her mouth was infected and that it would go away or reduce in size once she had her teeth cleaned and antibiotics. Since then Flora did have a dental cleaning with many extractions. She has one canine tooth and 3 lower incisors left but Flora loves her food and treats and doesn't let the lack of teeth slow her down at all!
We are sad to report that the lump in her neck isn't going away. It's not any bigger or smaller. The veterinarian has done a needle biopsy on it twice now and the results are inconclusive since the sample is full of blood. Our next option for her would be to remove the mass and send it to the lab for diagnostic but the veterinarian did inform us because of its location, right on top of her jugular vein, that it would be a very risky operation.
We decided that Flora is a happy girl otherwise and we don't want to put her though such an invasive/ dangerous surgery which could risk her life.
Our hopes for Flora is to find someone that is ok with letting her live her best life regardless of what that mass is and addressing any issues if they arise.
If that's you please submit an adoption application, or help us by sharing this post so we can find Floras forever family. 💕
UPDATE 1/7/23
Flora has had her dental and lost 4 teeth she is now ready for her forever home
Welcome Flora
Flora was found as a stray wandering the streets in Phoenix. Her hair was very dirty, had lots of matting and her nails were very over grown. She has a lot of missing teeth but the remaining ones are very rotten. She saw our veterinarian yesterday for her initial check up and bloodwork. The vet thinks she could be around 11 years old. She does have a swollen lymph node in her neck which is most likely due to how rotten and abscessed her teeth are. She has symptoms of Cushings disease such as thinning hair, swollen belly, hungry all the time and drinks a lot. We are waiting for her senior blood panel results which may indicate further testing.
Flora fit right in with her foster family and is going great. She is a very sweet easy going girl.
UPDATE: all of her bloodwork came back normal
Now we can schedule her for a much needed dental cleaning once we have enough funds.
We need your help to continue Floras medical treatments. Please consider donating so that we can get Flora feeling better.
-Check/ cash(mail to):
Yorkie Luv Rescue
500 North Estrella Parkway B2
Suite 495
Goodyear, AZ 85338