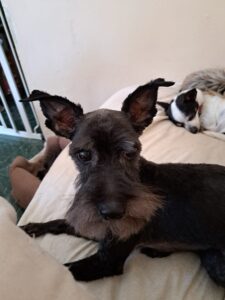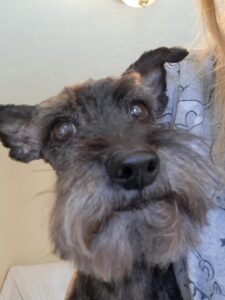 Run free, sweet Nikita
. For some reason, her body just shut down and I had to set her free today.
Thank you to Rene and Yorkie Luv Rescue for allowing me to foster her, and to all of the doctors at work who have taken care of her.
My heart is absolutely crushed. I loved her so much, and losing Edith, Rupert, Esme, and Nikita in a 4 month span is heartbreaking.
Please send prayers and good thoughts to my YLR foster, Nikita. She has crashed post surgery (absolutely not the fault of the surgeon. Her mouth was horrendous, and everything actually looks okay incision wise), and is currently hospitalized with a very low temperature (93.
and some not so great blood work.
Please welcome Nikita to Yorkie Luv Rescue
! This sweet girl came to us last week and we were told that she's a Yorkie mix, and we think it's pretty obvious that there's a good amount of Schnauzer in her. Kita is almost 12 years old and her foster says that she's the sweetest girl who just wants to be by someone.
Kita is great with dogs, cats, people, and we were told kids (and highly suspect that she is), loves to take long walks, and is just so gentle and well behaved.
She will need to see our vet, and we know that she is in desperate need of a dental since a lot of her teeth are mobile.
She is not available for adoption yet, so please watch for her updates.