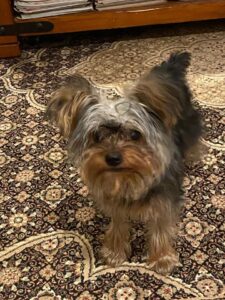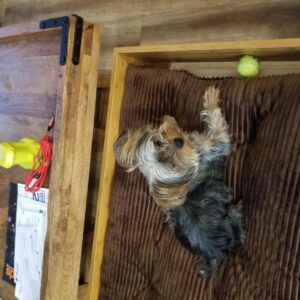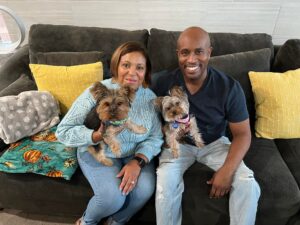 BENNY HAS FOUND HIS FORVER HOME
Meet Benny. He just turned 1 year old on December 12th and weighs 5lbs. He is potty trained and crate trained. He came to Yorkie Luv Rescue as an owner surrender.
His previous owners actually rescued him from his original owners who could not afford emergency surgery to remove a plastic bag he ingested and wanted him put to sleep. Thankfully, the vet tech that worked at the clinic knew her parents were looking to add to their family and she paid for the life saving surgery.
While his second owners loved and adored Benny, their two female 9 year old resident dogs did not like a high energy puppy. So after 3 months of Benny being bullied by their dogs, they made the heartbreaking, but correct decision to surrender him to us so he could have the life he deserves.
The family for Benny needs to keep up with this very high energy non-stop ball of energy. He loves to play play play, go on walks, and destroy his toys. He will tend to swallow pieces and you need to look out for that so he doesn't go though another surgery.
He needs a home where there is another young dog to play with that is close to his age, size and energy level. He can not be an only dog. He is also not really a cuddler. If you are looking for a dog to baby, Benny is not the dog for you. Also no young children. Benny loves his toys and if a little hands grab at his toys or him he will snap at you. We will only consider applications that meet these requirements.
Benny is not ready to be adopted until he is neutered and has healed. However, you may fill out an application at 
yorkieluvrescue.com
 to be considered.