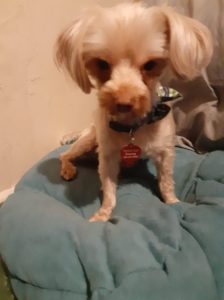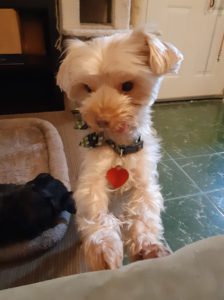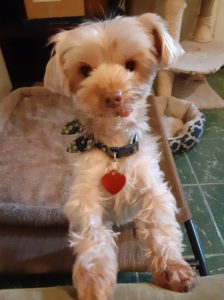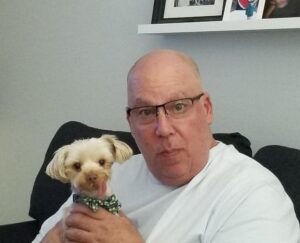 JACK FOUND HIS FORVER HOME
PUPDATE:
Jack, aka Jackie and Jack Jack, is doing well! He will be 7 in a few weeks, and has recovered well from having most of his teeth extracted (he has a grand total of 5 left), his hernia repaired, and getting neutered. He is really coming out of his shell, and has a great personality. He is still scared of people at first, and will need an adopter who understands that he will take time to warm up. He will try to run and hide when meeting people, but he has an amazing personality once he's comfortable. He has recently started talking to me and dancing when he's excited, and he has started to respond when the other dogs initiate play. His tongue hangs out adorably in a way that makes your heart melt. He also has an adorable overwrite that just adds to his adorable face.
He has been struggling with allergies, and recently began a prescription hydrolyzed protein diet (Royal Canin). He will be on that for awhile, and then we will introduce 1 new item at a time, and try to see what he is allergic to. He may need to be on the diet for life though, and it runs about $85/17.6 pounds. In the time he's been on it, his coughing and breathing issues (which were bad) have all but disappeared. He still licks and chews a lot, but it can take 6+ weeks to detox from a food. I'm hoping that it will help him with the itching, but for now, he wears a cone when I am not able to watch him.
Jack is the kind of dog who I can see fitting in to a variety of homes, but I do believe that he would adjust better to homes with no young kids. He just needs people who will let him come around on his own, because he will, and he's so worth the reward that his people will get.
Meet Jack! Jack was a breeding dog, and is 6 years old (7 in May). Jack is the sweetest boy, and he is learning how to be a house dog. He does mark in the house, but he is getting better. He is getting comfortable, but some loud noises and fast movements do make him cower. He loves to be with his people, and has learned that naps on the couch are glorious. I don't think that he had ever been on a leash prior to coming to me, but he has also discovered that long walks are one of the best parts of the day. He goes with the flow, and is pretty easy going. He currently lives with both dogs (male and female) and cats, and is great with both. He does have allergies, but he is doing well with his otc allergy diet. He will be getting a dental next week, and will likely need a full mouth of extractions. He will feel so much better once his rotten teeth are gone! He also has an adorable overbite that gives him character. Once he is recovered from that, he will need to be neutered (he's cryptorchid) and have an abdominal hernia repaired. He is not available yet, so watch for his updates! He is a sweet, loving boy, and he will make a great addition to the right home.