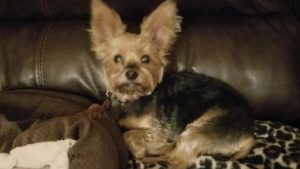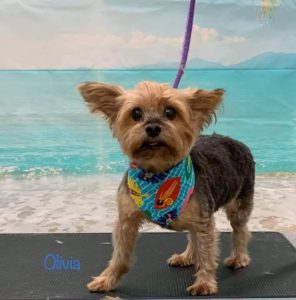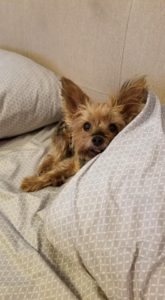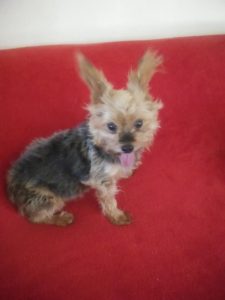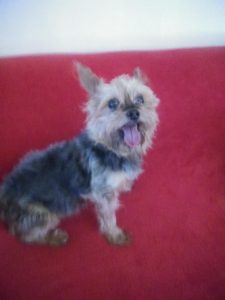 OLIVIA FOUND HER FOREVER HOME 
Update on Olivia:
Adorable Olivia is doing fantastic in her foster home. Her fosters found she is not "old and fragile" as her previous owners decribed her. In fact, the way they described her and how she really is makes it sound like two different dogs. She appears and acts younger than 11 years old. If she has a collapsed trachea, which is common in yorkies, she does not show any serious signs of it at this time. She does pant when she is excited or nervous. She is also overweight which can contribute to the panting and not being able to walk long distances. She weighs 10.5 lbs but should probably be 8.5. Her fosters are working on that with her. She does love her food and treats and can be food agressive so it best to separate her at meal times. She had her blood work done and everything came back fine so she will have her dental soon. She doesn't like to be picked up and she doesn't give kisses so if you are looking for a dog that does that it will not be Olivia. She would do best in a home with one other dog or as an only dog. She is housebroken and is an absolute doll. Her foster parents think she is perfect. If you think you have the perfect home for Olivia you may fill out an adoption application to meet her at yorkieluvrescue.com.
Please help us welcome our newest addition Olivia. She is 12 years old her mouth is rotten and she has collapsed trecha that we know so far. Olivia has had a ruff life she had a home and was 'given away' in 2018 the new 'loving family' never transferred her chip so original owner got a call when she was picked up by county. Now original owners are moving out of state and do not think she would make the drive and can not afford her medical bills. Welcome to the orphanage Olivia you are safe now and will get the medical care you need.