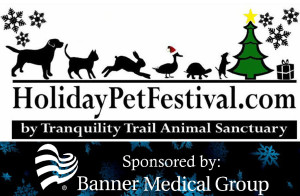 http://holidaypetfestival.com/
Saturday, December 5th, 2015
10am to 5pm @ WestWorld of Scottsdale in the brand new heated/air conditioned North Hall!
FREE ADMISSION, PETS WELCOME! *VOTED TOP 10 HOLIDAY ATTRACTION BY USA TODAY! *VOTED BEST HOLIDAY EVENT BY AZ CENTRAL READERS!

Join us for an exciting day of interactive activities, demonstrations, exhibitions and animals galore! Meet hundreds of animals looking for their forever homes. Animal rescue groups, veterinarians and animal care professionals will be on hand to answer pet related questions and provide information. 
Shoppers will find the Holiday Pet Festival to be a pet lover's paradise. From the latest in pet products, pet foods and pet related services to unique and one-of-a-kind arts & crafts, perfect for your pets and pet-loving friends. Gather the kids, pets and join us for a day filled with fun for the whole family!
Pets are welcome on a fixed lead or stroller.
Please bring a completed Pet Registration Form.
Forms will also be available at the entrance.
_____________________________________________________
   *Photos with Santa     *A Shopper's Paradise     *Entertainment     *Pet Adoptions
       * Discounted Vaccines, Licensing, Microchipping by Maricopa County Animal Care & Control * 2nd Annual Reindeer Run Flyball Tournament by the K9 Outlaws * Health and Wellness Seminars for People and their Pets by Banner Medical Group * Free Nail Trims by Chaparral Veterinary Hospital * Huge Silent Auction                                             * Activity Zone                                                 * Animal Angel Trees                                              * Pet Food/Supply Drive * Rescue Pet Fashion Show                                   * Family Feud Contest                                     * Best Holiday Pet Attire Contest                          * Best Holiday Pet Trick Contest * TONS of Shopping!                                               * Free Samples