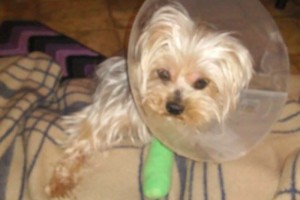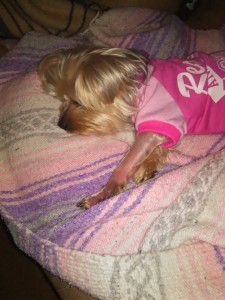 https://www.gofundme.com/dcq7tukc
Hello wonderful and amazing supporters! We have been waiting to post updates on Trixie's, as we have been awaiting some pathology reports on her tumor. Good news and not so good news! I'll start with the nit so good news. It seems that there were cancer cells found in Trixie's tumor. This was a shock to us all. And after much consideration and Rene talking with the vets. The Vet and Rene feel that it is best right now to watch Trixie's leg very close over the next several weeks before making any decisions on removing it or looking into an oncologist, because it is possible that it was localized to the tumor that was removed!
The good news to all of that is that Trixie's leg is healing very nice and she is doing very well. She is a very sassy and spunky girl as per Rene. She loves to snuggle up and get lots of attention!
She still has to see the vet every 2-3 days for checks On her leg. She is also suffering from some sort of eye issue that the current medications are not helping. She will be seeing a specialist today to hopefully find out just what medication is going to best help her eyes!
Thank You all so much for your continued support. please keep sharing!
Hi, I'm Karen and I volunteer with a fabulous rescue. Yorkieluvrescue has saved this sweet girl names Trixie from a high kill shelter in Pamona, California.  Trixie's was surrendered to the shelter on Jan. 19 and spent 4 agonizing weeks there with a very large, infected growth on her front paw. Yorkieluvrescue gave her freedom on Feb. 13th. She was going to come to San Diego and in was to foster this sweet girl who we believe is about 2-3 years old. However once her ride got to the shelter to pick her up and meet me.  It was decided that she needed more immediate help, so she was taken straight to Arizona to meet our amazing Rescue founder, Rene Silva and get urgent help.  She was started on antibiotics and eye drops due to severe dry eye and because the smell coming from this growth was unbearable! She went back to the vet on Mondaynto get prepared for surgery. And on Tuesday Feb 16th, she had surgery to remove the horrible growth.  She was Able to save Trixie's leg. But it is being watched very close to make sure no more damage was caused by the abuse she has endured. Her initial costs have exceeded $1000, and she is not out of the woods yet.  All funds will be put towards her care. And if there are any leftover funds, they will be put towards our other fosters medical needs that have mounted over the last couple of months.
Please help us save Trixie's leg by donating. And remember that no donation is ever to small.
On behalf of Yorkieluvrescue and all of our little furry ones in need, please help us to help them! Sharing is also very much appreciated!
Sincerely,
Karen Douglas
Rene Silva &
all volunteers of Yorkie Luv Rescue.
https://www.gofundme.com/dcq7tukc