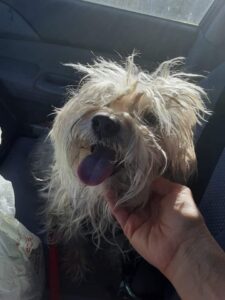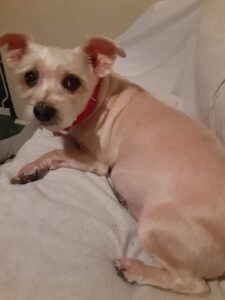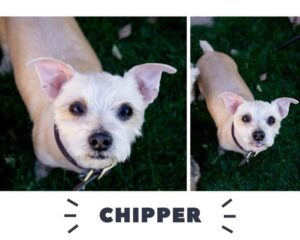 Pupdate:
Chipper is doing amazingly well, and is still the biggest cuddle bug. He has gotten better with not being glued to me at all times, but if the opportunity is there, he definitely takes it. I have learned that he does well with the large dogs that he's met (GSP and Cane Corso), so he could go to a home with a large dog. He still loves to go for walks, and is down to about 4 pounds. He is ready and waiting, and I would love for him to have his forever home in time for his birthday in April 
.
Meet Chipper, who came to us at the beginning of the month. He is a 9.5 year old (10 on April 23rd) who was surrendered by his owner who was unable to take care of him. He has been living with someone with dementia for the last 18 months since his dad died, and needed help. Poor boy has been attacked by coyotes 3 times, has a history of corneal ulcers, and has had a grid keratotomy done to help his ulcers. He already sees Dr. Norman at Eye Care for Animals, which is who we take all of our eye problem dogs to. His foster had been working with his mom (not who he was living with, due to his mom also being unable to care for him) for a month to get him, and we are glad that he is finally safe.
Unfortunately, his care was not kept up with recently, and he is a mess. He's obese, has an ear infection, skin infection from the urine on his feet, and his eyes are not great.
He is sweet, friendly, and has some basic training already.
He saw our vet immediately, and has been treated for all of his infections. He was diagnosed with dry eye in his right eye, so will be on medication for life for that, and he has an appointment at the eye specialist at the end of the month.
He is not available for adoption, so watch for his updates as we work on his medical needs!