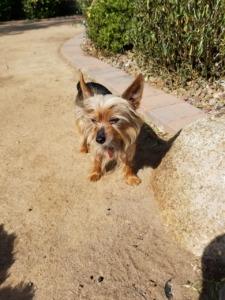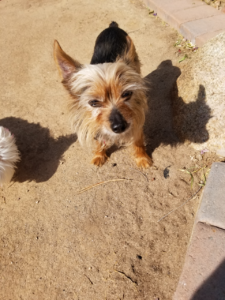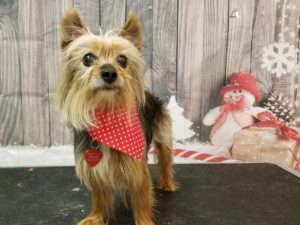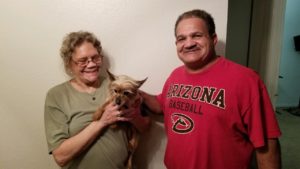 Sweetpea found her forever home
Update: Sweet Pea has been doing great in her foster home. Her foster parents and the people that meet her can not believe she is 13! She must know the secret to the fountain of youth! She goes on walks and loves car rides. She gets along well with all the dogs in her foster home.  Cats do not seem to bother her either. She does wear a diaper but not because there is anything wrong with. She just tends to mark and she does not mind wearing a diaper. Sweet Pea loves to be in the same room as her foster mom. She is a doll. If you have a big heart and can give this incredible senior a loving home please fill out an application at yorkieluvrescue.com.
Meet 13 year old, 8 lb. Sweet Pea. Even though she is 13 she sure doesn't act or move like a senior girl. She is very agile for her age. She came to our rescue as an owner surrender through no fault of her own. Her previous owner rescued her when a distant relative passed away. They thought it would be good for their female yorkie to have a companion after their other yorkie passed away. However, the resident yorkie did not like the addition of Sweet Pea and they did not get along and fought. As hard as it was for her owners that loved Sweet Pea, they knew it was best for both Sweet Pea and their other dog if Sweet Pea was surrendered to Yorkie Luv Rescue so she wouldn't be hurt anymore in fights and have to defend herself as both girls wanted to be the Alpha and were food agressive.
Sweet Pea is mostly deaf but she does hear certain sounds. Her eyes are a little cloudy but she seems to see fine. She likes to go on walks but don't pull her leash tight because she will pull the brakes. You need to walk at her pace! Hahaha. She gets along great with other dogs but she can be food agressive so her foster parents seperate her from her 4 legged friends for meals. She also loves to have you near her when she is eating. In fact she loves to be with you wherever you are.
She does wear a diaper because she marks in the house.  But it is really a non-issue with the diapers as she doesn't mind wearing them and is very good when you take them on and off of her.
Here are some words from her previous owner when prescribing Sweet Pea:
"Sweet Pea loves to relax on the sofa next to you, or follow you everywhere you go. She is quiet and very sweet. She walks well and likes to go for a short walk in the morning and evening. She does wear a diaper because she will mark, I use Target newborn diapers and cut a hole for her tail. She is fine with wearing the diaper during the day. She sleeps on the bed with us with out the diaper. If she is kenneled I leave the diaper off her also."
She is really a sweetie. She would do well in a home where her owner is home most of the time and will take her for short walks daily. She does well with other dogs but not with a dog who is an Alpha.
Her adoption fee includes her spay, vaccines, micro chip, bloodwork  and her dental. If you have the perfect home for Sweet Pea and would like to meet her please fill out an adoption application.