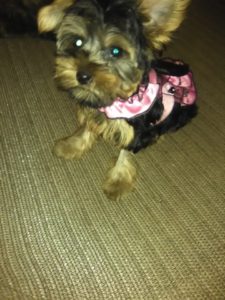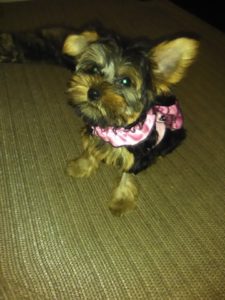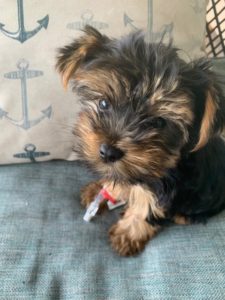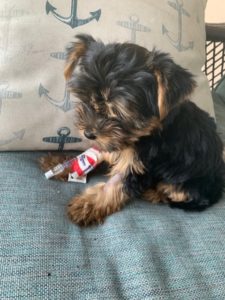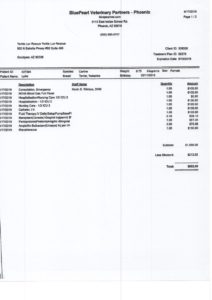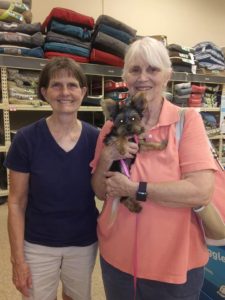 LYDIE FOUND HER FOREVER HOME
UPDATE
PLEASE READ THIS WHOLE POST
Our sweet little Lydie is going to be spayed tomorrow she is still only 2.63 pounds maybe that is all she is going to weigh since she is about 6 mos old now. Lydie would do best in a home with no small kids (due to her size) she must have small furry friends to play with and her human should be home most of the time. She is full of energy and doesn't like to be left alone. We are now accepting applications with the above conditions. We are going to be MORE PICKY then we already are for this little girl. If you are interested in adopting and meet the conditions above please go to our site and fill out a adoption application.
Please meet Yorkie Luv Rescues newest addition – sweet, tiny Lydie.  She was surrendered to the Shelter in Tuscon due to medical issues. The shelter ran many tests on her and it is possible she has a shunt (parvo neg).
Our volunteers rallied to get her to Phoenix asap. She appears way younger than 13 weeks old and weighs only 1.6 pounds. Our first ER bill is $852.06 – more to come unfortunately as Lydie fights for her life.
Please help us help her. Our pay pal is yorkieluvrescue@yahoo.com